Every 3D project is unique. We take time to deliver the best solutions. Ask us about limited-time quantity discounts today.

Print quick prototypes and go to market faster. Ask us about prototyping options and drawing support.

Print parts with metal or plastic filament. Get parts in as few as 1 to 3 days, depending on application.

Try us for molds. In a hurry?
Contact us! We can help.

Ask us about back up & emergency parts, and rush orders. Get parts in as little as 48 hours, depending on application.
---
Use this form to request a quote for parts, prototypes, tooling and large filament orders.
Is your drawing ready? We will reply back with instructions to send the file safely.
Questions? Call us at 847-849-5720 or send an initial email to: 3Dorders@mholland.com
---
M. HOLLAND PARTS LAB SERVICES
3D printing machines are enabling design and manufacturing professionals to create on-demand, high-quality prototypes, tooling and end-use parts. If you need one to 250,000 parts per month, try 3D Printing with us.

3D Printing Services: DPE, DMLM, FDM/FFF, MJF, SLA, SLS, Composites, Polymers, and Metals

3D Lab Services: Engineering, Design support, Prototyping, Managed services, Laser cutting, Training, Support, Custom materials, and Installation services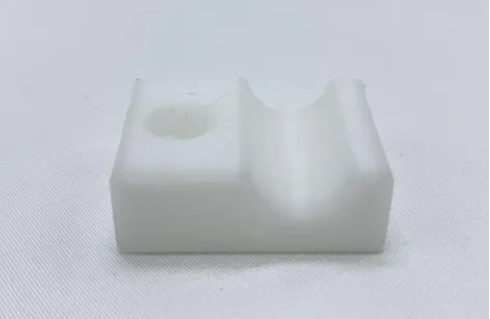 Vermatic PP Cushion
"When unique opportunities present themselves where Vermatic is not able to mold the requested size clamp cushion with our in-house dies, we turn to M. Holland for their 3D printing expertise. Their depth of knowledge and experience has been invaluable and we consider them an important value-added partner to our business."
-Cathy Frantz, Vermatic, New Berlin, WI